Sub-irrigated planter
From Wikipedia, the free encyclopedia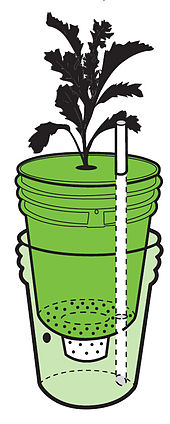 Sub-Irrigated Planter
Sub-irrigated planter
(SIP) is a generic name for a special type of planting box used in
container gardening
and commercial landscaping. A SIP is any method of watering plants where the water is introduced from the bottom, allowing the water to soak upwards to the plant through
capillary action
.
[1]
It is possible to automate the watering and thus SIPs are popular with professional landscapers in buildings or urban settings. SIPs are available as products, under brand names such as Planter Technology
[2]
(commercial) and EarthBox
[3]
(consumer), Ollie Plant Sipper
[4]
(consumer), The Refuge Garden (
www.urbanrefugegardening.com
) (consumer/commercial) or as
do-it-yourself
projects made from plastic buckets and boxes.
[5
]
Would love to hear about your experiments, projects, failures and successes.